The history of park service, recreation centers, and national park assistance is vibrant and effervescent, with a collage of people of diverse gender, race, and age – yet much of that history has been, throughout time, forgotten or ignored. Like most histories, while women played important roles, they often haven't been credited – overshadowed by male counterparts and pioneers simply because of their gender. Yet women's history and park service and conservation history are so intertwined, they are practically synonymous.
Within the heart of every park, there are female trailblazers who paved the way and continue to do so – many of whose work resonates throughout the local PA parks that we residents know and cherish. So, for the love of suitably named "Mother" Nature and in observance of Women's History Month, let's look at the impactful women who have made their mark on Parks and Rec history in a variety of ways.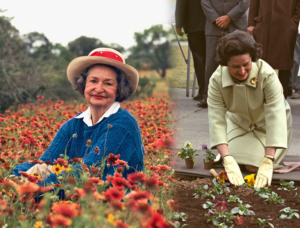 Lady Bird Johnson
You're on a drive through highways and turnpikes and, by the roadside, instead of decaying billboards and abandoned junkyards, there are blooming daffodils and large patches of grass. This natural beauty is in part thanks to Claudia "Lady Bird" Johnson, our country's First Lady from 1963 to 1969. She was a huge proponent of conservation of natural life, and her love for the land played a huge part in her role as First Lady, using the position to make big changes in the beautification of everyday areas in America.
Lady Bird Johnson not only helped beautify struggling and industrialized areas, but she also played a part in the conservation and creation of many parks. Using her status, she'd visit national and local parks, paparazzi in tow, to raise awareness for their protection. So next time you stroll through one of the many parks she touched, note the azaleas and the dogwoods, the pops of shrubs and the occasional bench and thank Ms. Lady Bird for all her beautification work.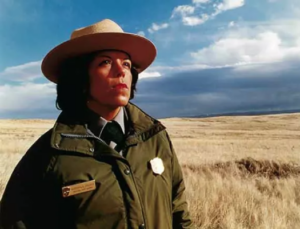 Barbara Ann Sutteer
Remembering the past can be just as important as changing the future. Education and history are just as vital to local and national park systems as conservation and beautification efforts. As the second Native American woman appointed superintendent of the National Park Service, Barbara Ann Sutteer's work was all about making – and correcting – history. Within the early days of her superintendent career for the Little Bighorn Battlefield National Monument (formerly the Custer Battlefield Monument –a name she aided in having changed for historical accuracy), she doubled the number of Native American employees, allowing the door to open for all people to play a part in park service.
She also worked closely in making sure the park's education accurately depicted the reality of the Battle at Little Bighorn. She saw this as an opportunity to teach about the Native Americans who suffered, endured, and still lived and survived close by. By introducing different pamphlets, books, and brochures to the park for visitors to see, she motivated the park systems to use their land as a chance to educate – something that is still prevalent in local and national parks today.  Sutteer understood the importance of Native American reclamation of land, and she even facilitated conversations between the park service and multiple tribes after her retirement.
Florence Bascom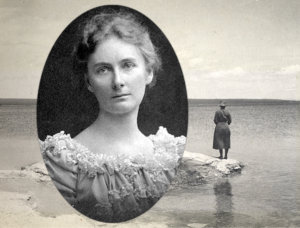 Otherwise known as the Stone Lady, and not because of her stone-cold gaze, Florence Bascom was the first female geologist working in the parks system. She was a trailblazer in geological science, a route not taken by women at the time. Geology, while not a commonly talked about topic when it comes to local parks, plays a large part in understanding park landscapes and the efforts needed to properly care for and preserve them.
Bascom became most known for studying rocks in Pennsylvania's own Piedmont region and even made a discovery about Piedmont's cycles of erosion, which in turn helped explain its rate of occurrence and future efforts toward conservation. In 1896, she became the first woman to join the United States Geological Survey – a group dedicated to surveying landscapes (many of which are now modern-day parks) and studying the hazards that may have been threatening them. Bascom fought hard to ensure the field of geology could be a possibility for anyone to get involved in, including women. If you ever meet a female geologist, it is likely that the Stone Lady herself is one of their biggest inspirations.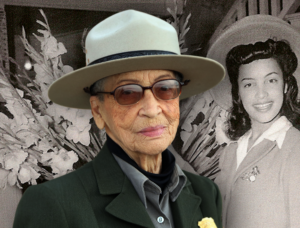 Betty Reid Soskin
A park ranger knows no age. Betty Reid Soskin made history as the oldest active park ranger, starting her parks career at the young age of 84 and retiring at 100 years old! When she decided to help develop the Rosie the Riveter/WWII Home Front National Historical Park, it was to eventually play a part in rewriting WWII history. There were untold stories of the home front, including the role that Black women played, and she felt these stories needed to be told to park visitors. She herself was a clerk in a segregated union during the war.
Reid Soskin's goal was to not only help transform the historical documentation of the park by sharing her own knowledge of the time, but also to make the park more accessible and attractive to Black Americans. In 2015, President Barack Obama awarded her a presidential commemorative coin and in 2018, "Glamour" magazine named her Woman of the Year. A quick search of her name will show that her activism dates back to even before her time with the parks: a musician, and poet, Betty Reid Soskin is truly inspiring!
Celebrate women every day.
From protecting and preserving not only the parks' natural beauty and geological importance but also their history, these women changed the dynamics of Parks and Rec for the better. While much of their work was not done specifically in Pennsylvania, it has transcended and affected the way Pennsylvania parks work today. By making park service more accessible to women, specifically women of color, initiating ways of keeping the parks clean and beautiful, and preserving their history, these women were trailblazers who should be celebrated this Women's History Month.
If you're looking for more direct ways to celebrate Women's History Month in PA, there are parks to visit and classes to enroll in. Among other ladies-only classes offered at different local parks, Sinnemahoning State Park offers a Summer Women in the Wilds weekend jam-packed with environmental education and outdoor activities. Many parks in Pennsylvania feature monuments honoring historical women, like Bristol Lions Park's Harriet Tubman monument. There are so many things to do and so many local parks to visit to celebrate herstory!