Roses are red, violets are blue, show love to PA parks, and don't forget rec centers too! February is a great month to declare your love for someone, but it can also be an incredible reminder to spread love to your community and the environment. Maybe this year, show your love for your local park—and invite your partner so they don't get jealous!
From fond memories of a playful youth to all the friends you've made on the trails since, there is so much to love about your local outdoor space. So, while the temperatures may still be low, there's no way your heart won't warm up hearing some real-life sentiments of PA citizens on what they love about their own Parks and Recs department. Love is truly in the air – the fresh outdoor air, that is.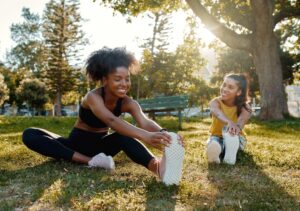 Show yourself some love.
"Having a robust Parks and Recs department in a community is so important on so many levels. The fitness classes and the trails definitely made a very positive difference in my health and fitness – without them I literally don't think I would have survived a sudden major medical trauma. Never doubt what a Parks and Rec department can do for a community."
– Citizen of Upper Dublin since 2006
Water aerobics? Zumba? Goat yoga?! What's not to love about all the activities and classes a recreation center located near you has to offer? Much more than a way to pass time, the variety of healthy outlets being offered can change the way you live your life, and sometimes, as you can see in the quote above, can even save it. According to the CDC, just two and a half hours per week of aerobic activity, such as swimming laps in the recreational pool, can decrease the risk of chronic illness. Yoga decreases stress and can be a huge help to eliminate factors that lead to heart disease, including intense inflammation. By taking a class or working out, no matter the intensity, you're not only loving your rec center, but you're also loving yourself!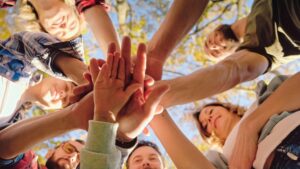 Love the togetherness.
"I love gathering with my family and friends at beautiful Mead Park in Corry. The food always tastes better outside. If eating outside and it rains, you can choose a pavilion covered with a roof. With 50 acres of land and woods, there's plenty of picnic areas with tables to sit and eat. It is a beautiful park to spend your day in."
– Citizen of Corry
While spending time loving your park, you can also spend time loving the people IN it. Parks understand that reuniting, getting to know one another, or sharing laughter and stories over a meal is a necessity for how we live and how we love – which is why many PA parks offer specific spaces to do just that. With tables built for dining on hot dogs and burgers (and all those condiments you really love) and plenty of grassy space for throwing around a ball, unleashing your worn boards and bean bags for a game of cornhole, or even taking a stroll down memory lane, there are so many ways to experience nature while spending time with those you care about. Looking for a place where you can spend some alone time with that special someone? Beyond wide-open areas tailored for meeting in large groups, many parks have secluded areas and scenic lookouts that can make your heart melt. A picturesque picnic is a perfect date for nature lovers and nature newbies alike. Loving your community is easier when you've got a PA park to help you do it.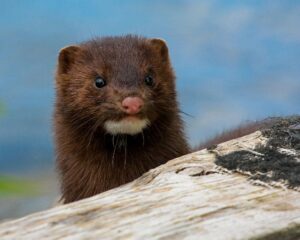 Love the little creatures.
"In a canoe on the Yellow Breeches, I saw 2 black minks playing and scurrying among some rocks. I really enjoyed watching them."
– Citizen near Cumberland Valley
Birds chirping, frogs hopping, and beavers damming – the park is brimming with animals you just gotta love. And speaking of minks, did you know that humans are a mink's deadliest predator? Around 100,000 minks are trapped every year in the United States. A state park can mean a second chance for any animal that risks danger in the greater outdoors. It becomes a refuge for them. In this way, the park that you love is loving the animals that inhabit it – and surely, without a doubt, you're loving the animals that inhabit it too, because they are just that darn cute!
Find true love.
"My husband proposed to me during a hike to the statue of the Native American at Valley Green on Rosh Hashanah. We'll celebrate our 30-year anniversary this May, and I can't count how many times my children have heard that story and taken that same hike with us." – Rachel in Montgomery County
Love for the park? How about love IN the park too? Whether you're looking for your dream rom-com meet-cute, spending a first date on a trail, or wanting to spend time with a partner, there is romance to be found in a PA park. Just a few romantic ideas include ice skating, snowy hiking, a picnic in the grass, even people-watching from a park bench (one of the nation's fondest pastimes). Maybe try picking bundles of wildflowers for one another as a thoughtful gift, or perhaps riding a tandem bike through one of the many bike paths offered. An outdoor recreational space can be an intimate way to nurture a relationship – the sweet soothing sounds of waterfalls and birds chirping and the sun shining through the leaves of the trees making your loved one's eyes sparkle – let romance ensue!
Make this month about more than candy hearts and love letters. You just read a whole love letter to the Parks and Rec of Pennsylvania. From keeping such abundant troves of trees, flowers, and animals alive and healthy, to keeping your body and mind healthy as well, there is nothing PA Parks and Rec wouldn't do to show how much it loves you! And don't forget about your community. The people you meet in classes, on the playgrounds, or even just on a dirt path are people that make up your neighborhood. A new friend may be just waiting to be found. Take the time to make sure your friends, family, and partner feel loved, and always remember that your local parks and rec needs love too!