Understanding The Relationships Between Youth, Inclusion, Equity, and the Outdoors
To better understand the relationship between youth, inclusion, equity, and the outdoors, PRPS embarked on a series of Listening Tours in 2021. Our goal was to have honest discussions with teens in underserved communities. We wanted to hear about how they used parks, if they felt welcome, what outdoor activities they experienced, and which ones interested them. We also focused on young women as their voices are sometimes not heard as frequerntly.
We have held six different sessions and spoke with teenagers in Philadelphia, Erie, Pittsburgh, and Reading. They had a variety of experiences with their local parks and outdoor recreation. To encourage participation, the stops were scheduled for the early evening with food and refreshments. In addition, we were also happy to distribute Good for You T-shirts, gift cards, and assorted swag to many of the teens. Local youth leaders were also on hand to assist and provide the groups with a trusted presence during the discussions.
Each session began by asking the teens if they used parks and what activities they did there. We're happy to report that most answered that they used their local parks, adding credence to NRPA's "A Park within a 10 Minute Walk" campaign. Many of these community parks offered space to chill, ball courts, and playgrounds. As expected, these were also identified as their primary activities in these parks. A finding sad to note was that many respondents had not visited a state park (unless on an organized trip). Very few had ever been to a national park outside of Pennsylvania.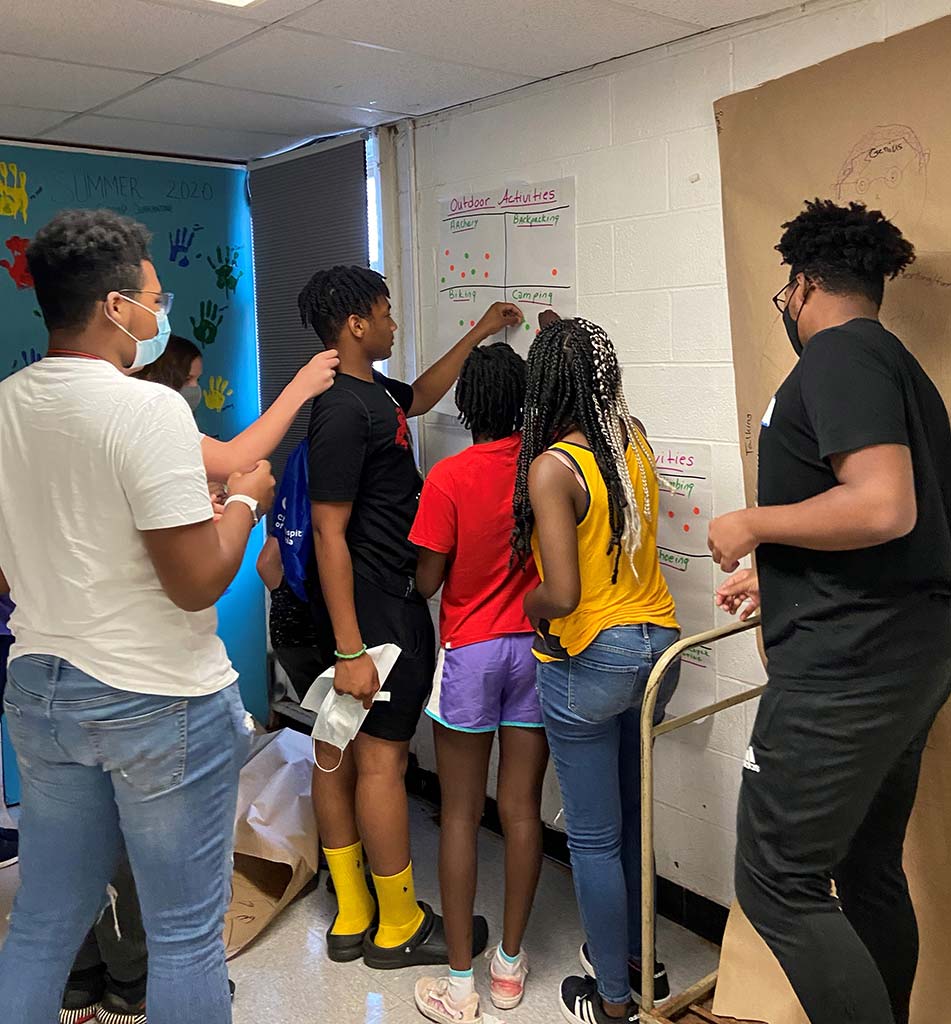 To learn more about their experiences with outdoor recreation, participants played a bingo game and marked down the activities they did. The 16 outdoor activities included hiking, biking, fishing, hunting, photography, swimming, paddling, camping, skiing, backpacking, and geo-caching. Some activities were mentioned more frequently (hiking, biking, swimming), and others were more regional (Erie and fishing).
Many in these groups mentioned organized outings and trips or being taught by a trusted adult as their entry into outdoor recreation activities. This was a key finding across all the tour stops. The teens who participated in outdoor recreation activities either had a family member introduce them or were on an organized activity with trusted leaders. These relationships were a critical and reliable predictor of their participation in outdoor recreation.
For the most part, the groups felt welcomed and "at home" in their local parks.
Near the end of each session, we asked our groups if they had ever considered a career in recreation and parks. We found that many had never considered this opportunity but were generally interested in learning about available jobs and career paths. Our discussions clearly showed that more effort and coordination were needed to inform and encourage young people in recreation and parks.
After inquiring about outdoor activities, the sessions focused on more personal questions regarding the teenagers' perceptions and feelings about inclusion and equity in parks and programs. For the most part, the groups felt welcomed and "at home" in their local parks. They enjoyed the facilities and felt that their parks were safe. Many thought their local parks could benefit from higher staff presence, some needed repairs, and more frequent maintenance.
A few teens also shared some disturbing insights. A young woman recalled being called the n-word by someone in a park maintenance vehicle. Another young man shared that as soon as his family set up for a picnic, they were told to be quiet by the neighboring party. The harassment went so far that they ended up moving their picnic to avoid continued harassment and possible escalation. While these encounters were not the norm, they do point to the need for continued education and diligence to address these issues successfully
PRPS's Listening Tour has proven to be a confirming and eye-opening experience. The responses we received from the young people confirmed the value and importance of local parks. They appreciate the opportunity to have open space where they feel safe, and that could be easily reached. Professionals would be wise to provide these parks with more attention as they are the most used by the local community.
We also learned that inclusion is an ongoing process. There is work to do to successfully address diversity and equity issues in our parks and agencies. We need to ensure that all parks receive adequate attention and that all communities we serve have a voice. Finally, we need to work together to raise awareness of potential careers in recreation among all users and foster a positive culture in our agencies.
Another takeaway from our sessions is that having trusted adults and parents is critical for outdoor recreation activities. Because access to these activities is already difficult in many of these communities, we must provide these opportunities whenever possible. Remember, strong support and advocacy for parks and the outdoors comes from the people who enjoy these places and activities. We need to expose our clients and local communities to the outdoors and instill an appreciation for outdoor recreation. Giving the next generation an appreciation of the value of open spaces and outdoor recreation is perhaps the best way to ensure the future of Parks and Recreation.
We would like to schedule 1-2 more stops for our Listening Tour project. If you would be interested in hosting a stop, please contact Dan Hendey at PRPS, by clicking below.